Good golden pocket watch by Moeris with Bulletin de Marche.
Diameter is 49mm, heigh is 61mm, weight is 85 grams.
The watch comes in original box and it's original Bulletin de Marche, issued by by Observatory of Bienne / La Chaux de Fonds / Le Locle / St. Imier.
The Bulletin of First Class, issued in 1906, confirms it's deviation of less than 1 second per day with daily variation less than 0.5 seconds per day.
The watch has an interesting story behind it.
It was an hommage gift from
"indefatigable employers" to Mr. Louis Tessier, artistic and administrative director of Palais de la Jetee-Promenade in Nice, on French Cote-d-Azure.
The dust cover names Mr. Tessier founder of Palais, what is probably an overstatement..
Under direction of Louis Tessier, Palais became notable and profitable institution, organising the stars and best musicians concerts, besides it's casino activity.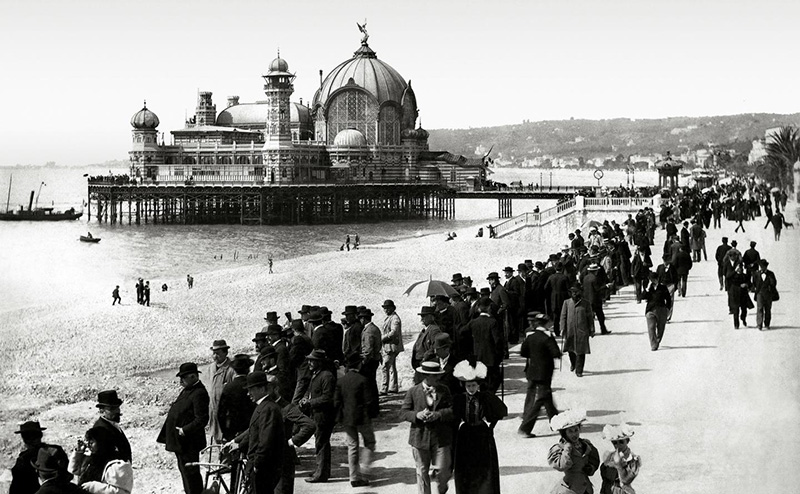 Palais de la Jetee-Promenade in Nice
Constructed on the sea, in the taste of Belle Epoque, it was opened in 1891. In 1907 the gaming room was added to that of village hall and concert hall.
At the beginning of the First World war, the building sheltered wounded soldiers, then, in 1915 , found again its festive vocation.
Appreciated or criticized, the casino took its place in the landscape of Nice: it became one of the most characteristic buildings of the city, represented on picture postcards or on advertising posters. Painter Raoul Dufy made of it a favourite subject of his canvases. It was the silhouette one recognized by far, standing out on the sea, with its style of seaside exoticism.
It was demolished in 1944, during World War II.

The watch is production of Moeris company from St. Imier.
Moeris company was opened in 1893 under the name Moeri & Jeanneret.
In 1905 it was one of the first companies, experimented with Invar hairsprings.
From 1920s, the company is making pocket watches, wristwatches and chronographs.
The company was functioning till 1970, when it was purchased by Tissot.
The watch has owner's monogram LT for Louis Tessier on the dust cover.
However, it seems that Mr. Tessier had some other watches and this one spent most of it's life in the box.
It's in practically new condition, with very minor wear, all minor details on the case are preserved.
Condition
The watch appears to be in excellent condition.
Movement is in running condition, though cleaning is recommended.
The dial appear to be flawless.
Case has just minor period wear.
Nice watch, interesting story, don't miss it.
Item is not available