Beautiful verge fusee pocket watch in solid 18k gold case.
Diameter is 43mm, height is 55mm, weight is 60 grams.
Back cover is decorated with beautiful and delicate enamel painting in galant manner of Louis XV epoch.
The subject isn't exactly erotical, but rather piquant, with young gentleman peeping the sleeping lady.
The painting is very delicate and beautifully solved with just two colours.
Truly piece of art.
The dial is also very nice, it's decorated with white stones, the hands are equally elaborated.
French production of 1760-1780 signed by Berthoud in Paris.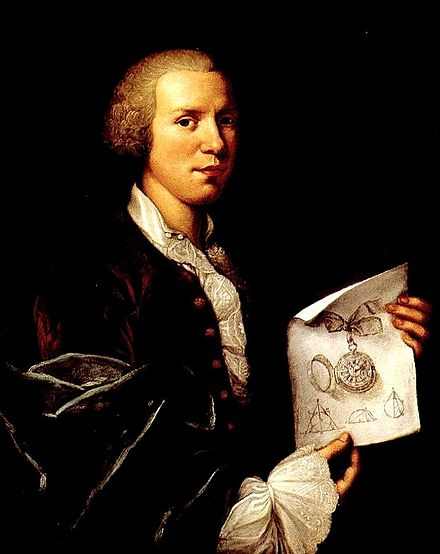 Ferdinand Berthoud (1727-1807)
was a scientist and one of most important French watchmakers.
He became master watchmaker in Paris in 1753. Berthoud, who held the position of Horologist-Mechanic by appointment to the King and the Navy, left behind him an exceptionally broad body of work, in particular in the field of sea chronometers.
As a determined experimenter, a skilled and daring craftsman, and an inventor keen to pass on his knowledge, Ferdinand Berthoud not only made a contribution to the advance of watchmaking but also promoted the use of precision clocks in the sciences of his day, thus contributing to progress in these various disciplines. He is the only watchmaker to have published the findings of all his research in a detailed, methodical manner. Gifted with a genuine spirit of scientific engineering and an extraordinary capacity for work, Ferdinand Berthoud performed more experiments than any other watchmaker of his day.
Ferdinand Berthoud left behind him an extraordinary output in a variety of fields: sea chronometers, watches and decorative clocks, specialist tools, and scientific measurement instruments, as well as publishing scores of written works and specialist dissertations, totalling over 4,000 pages and 120 copperplates.

The wikipedia article on this remarkable watchmaker contains lot of information, even in English.
Condition
Watch is in quite good cosmetic condition with small scratches and minor imperfections to the enamel, hardly visible to naked eye.
Please note, that watch is much larger on photos than in the real life.
Dial is in very good condition without visible flaws.
Beautiful original hands, mineral crystals.
Technically the watch is in running condition, works in every position, though I don't guarantee time keeping.
Nice addition to antique enamel collection.
Shipping from France worldwide.
Item is not available