Very nice quarter repeater in solid 18k gold hunter case.
The movement is made by LeCoultre (cal. 31) and is signed under the hammer.
Good quality movement, it features many rubys, jewelled to the hammers, wolf tooth winding, counterpivots for all escapement.
It's nicely finished, as you expect from quality LeCoultre production.
The case is solidly built of 18k gold, overall very good watch.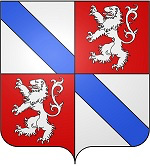 The front cover bears engraving with family crest under the Ducal crown.
The crest belongs to the Ducal family Dufort from South West of France.
This noble family is known from XI century and was Lord of Chateau de Duras and lands of dukedom of Narbonne.
The family give to France many notable people, marshals, writers..
Condition
The watch appears to be in very good condition.
The movement is in running condition, though I don't guarantee time keeping.
Repetition strikes as it should.
Dial is in excellent condition without visible damages.
Cosmetically watch is quite fine, with some minor wear to the case.
Case is hallmarked for 18k gold, dust cover is also made of gold.
Please look video below the photo.
Overall good condition.
Case diameter is 52mm, height without bow is 65mm.
Weight is 115 grams.
Good watch with interesting provenance, don't miss it.
Shipping from France worldwide.
Item is not available
See also