Rare and beautiful pocket watch for Chinese market.
Diameter is 55mm, weight is 93 grams.
It's equipped with early bridge calibre according J.A Lepine design, with stoppable centre seconds hand.
The watch is produced in typical style for Chinese market, with rich enamel decor with half-pearls to the rim.
Dust cover is signed by J&M Banks, London, there are no records found for this watchmakers. The overall enamel style and makes to think of Geneva production.
Ian White in the recent book "The Majesty of Chinese-Market Watch" points that some Geneva makers sold their production via London, as English watchmakers had more established reputation in Celestial Empire. I believe it's a case for this watch.
Antiquorum auction house sold the extremely similar watch to the current one, unsigned, with London hallmarks for 1795 - 1796, attributing it to William Anthony (Lot 59, auction of 25 November 2006, sale price 200 600 HKD).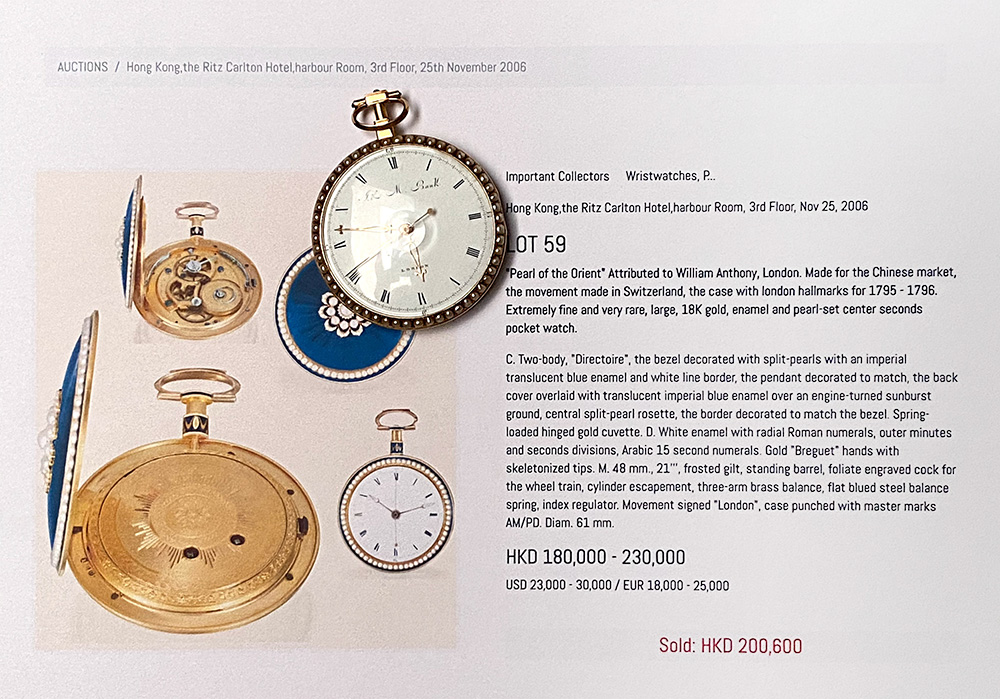 Very similar watch signed by Dodds London is shown and briefly described by A. Chapiro in his book "Jean Antoine Lepine".
In this book, Mr. Chapiro tells the brief history of this calibre, developed by J.A. Lepine in 1770s, describing it as the predecessor of Fleurier calibre, commonly found in watches for Chinese market.
Condition
The watch appears to be in good condition.
The enamel is beautifully preserved with very minor surface scratches.
Dial seems to be flawless.
Movement with cylinder escapement is in running condition, hovewer time keeping isn't guaranteed and I recommend cleaning as usual.
Beautiful and rare watch, don't miss it!
Item is not available