Rare and unusual German pocket watch in case, fully covered by white painted enamel or porcelain.
The back cover is depicting Frederick the Great portrait, being held by Athena goddess.
Inside of back cover the banners and weapons, symbolising military victories.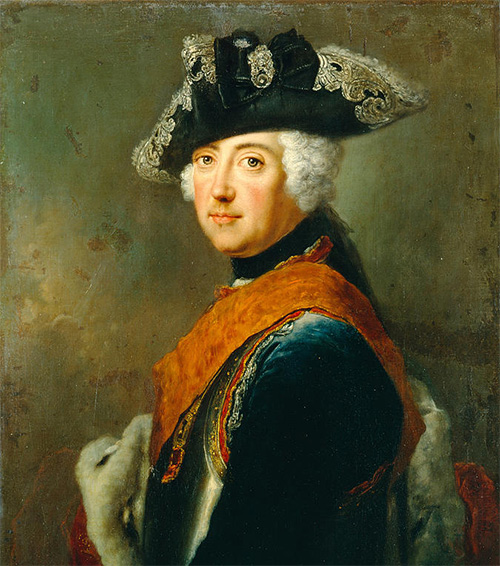 Frederick II (German Friedrich II; 1712 – 1786) ruled the Kingdom of Prussia from 1740 until 1786, the longest reign of any Hohenzollern king, at 46 years.
His most significant accomplishments during his reign included his military victories, his reorganization of Prussian armies, his patronage of the arts and the Enlightenment and his final success against great odds in the Seven Years' War.
Frederick was the last Hohenzollern monarch titled King in Prussia and declared himself King of Prussia after achieving sovereignty over most historically Prussian lands in 1772.
Prussia had greatly increased its territories and became a leading military power in Europe under his rule.
He became known as Frederick the Great (Friedrich der Große) and was nicknamed Der Alte Fritz ("The Old Fritz") by the Prussian people and eventually the rest of Germany.

The Athena goddess, who holds his portrait is an ancient Greek goddess associated with wisdom, handicraft, and warfare, symbolysing the achievements of Frederick II.

The style of this watch, with it's big balance bridge, rather thick movement, and bold dial painting, allows to date it approximately to middle of XVIII.
Taking into account the military victories symbolics, probably it was made soon after Seven Years' War end (1763).

The watch is signed by Leukert in Dresden.

J. Abeler in his "Meister der Uhrmacherkunst" mentions Johann Gottlieb Leukert in Dresden.
He received Master degree in 1752, died in 1795.
The watch in jasper case by this master is being kept in prestigious collection of the Mathematisch-Physikalischer Salon in Dresden.

Condition
Condition is quite ok.
Case has some wear to enamel painting on the backside.
The porcelain bezel as usual for such watches has multiple defects and minor restorations.
Dial is in good condition without significant flaws.
Movement is running in every position though I don't guarantee time keeping.
Outer case diameter is 47mm, height is 55mm.

Nice and rare addition to your collection of German watches.
Item is not available